Mamaliga, The Recipe
If you can boil water, you can whip up a superb Mamaliga (or polenta as probably known more widely). There isn't much science that goes into it. The creative input comes when you decide what to garnish it with (or use it as a garnish to a main dish).
Each region or use has its own culinary twist to it. For instance, in Moldova it is used often as a bread substitute so the consistency can be so thick that you can cut slices using a string of some sort. Of course the Sarmale (stuffed cabbage or grape leaves) is a signature dish that goes excellent with it.
Here I am making a simple Mamaliga cu Branza (polenta with feta cheese), with a somewhat thinner consistency, longer boil time, garnished with Bulgarian feta cheese I found in our local ethnic grocery store we absolutely love, and just to ad an extra touch of creaminess, I added cottage cheese.
The following feeds roughly two-three hungry adults, or four children but can multiply the serving to feed an army.
For the Mamaliga:
1 cup corn meal (I use an Indian brand called SWAD)
4 cups water
1/2 Tsp salt
For the feta cheese garnish:
1 1/2 cup feta cheese (preferably imported from a country in the Balkans)
1 cup cottage cheese
1 Tbs chopped parsley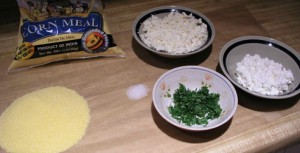 Bring the water to a boil in a large pot, and add the corn meal in a slow steady stream while constantly whisking – this will prevent lumps. Add the salt and reduce to low heat, whisking the mamaliga frequently. Continue this for about 30-40 minutes, until the mamaliga starts pulling away from the pot's sides. Add the feta and cottage cheese, sprinkle the chopped parsley on top and presto! You are done!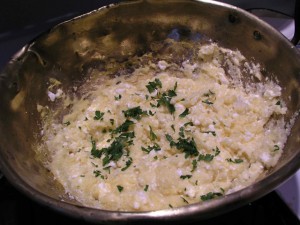 The Mamaliga can be used as a base, side dish or garnish to numerous recipes. I will have a couple of those on the list to post so stay tuned for more!
---
---