Transylvanian Chimney Cake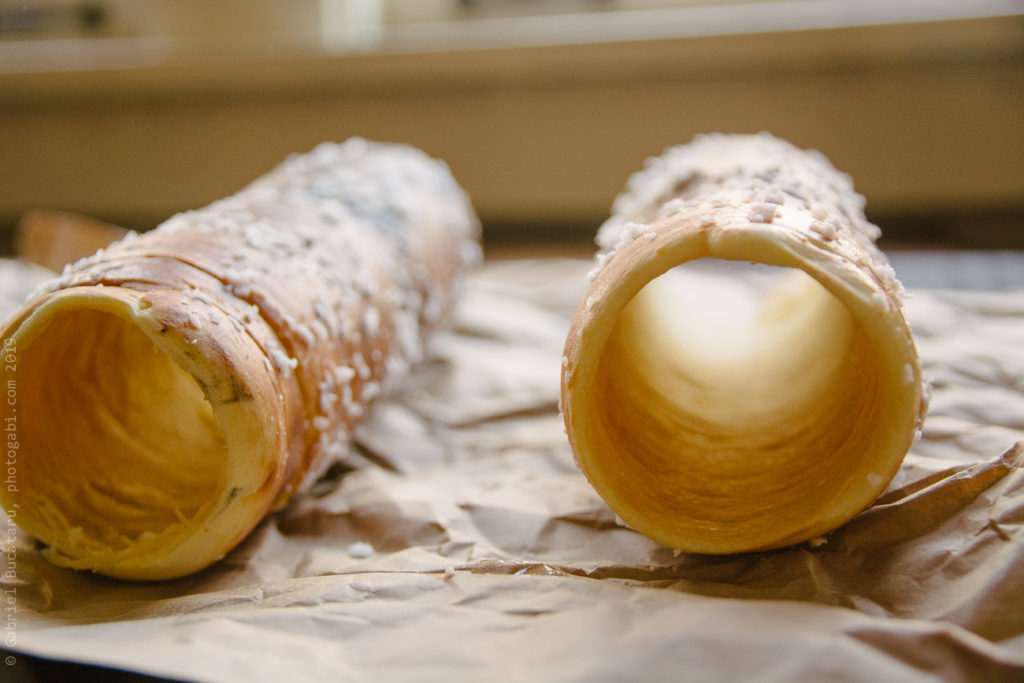 So, prompted by my friend Valerie from KumoCafe (who posted a blog post and tasted the real thing in Romania) and mixed with a longing for a somewhat obscure pastry I've tasted long, long ago also in Romania I embarked on a quest to bake the Transylvanian Chimney Cake (aka Kürtőskalács).
The Chimney Cake
And of course being bitten by the video production bug, I couldn't resist her idea of making a video along with the recipe. So here it is:

This is not your everyday cake, since it does requires some gear to bake it which is described in detail on Joe Pastry's blog post, along with the recipe which I adapted here. But the results are worth the try (even after 2 failed attempts as Valerie had :-). In a nutshell, the Chimney Cake is a sweet yeast dough (similar to challah) wrapped around a spindle and roasted over a charcoal fire, with a sweet, caramelized sugar glaze, and topped with various mixture of hazelnuts, poppy seed, or even coconut flakes.
I did tweaked Joe's recipe a bit, by adding only 1 tsp of yeast instead of the 2-¼ tsp mentioned on his site, and letting the dough rise for about 8 hours (instead of 40 min). I found that the longer rise time adds a bit more flavor to the dough and makes it a bit more chewy. Got the idea from the NYC Sullivan Street Bakery no-knead dough. There the dough has only 1/4 tsp instant yeast and it sits for 18 hours. Definitely more gluten development along with enzymatic action, can be blamed for an awesome taste and crumb.
Valerie and Theron discovered that the baking method is probably more important than the actual dough making (although their first dough just fell apart). They went through several ingenious contraptions, including a drill, a rolling pin and finally a rotisserie oven that did the trick. Check their video here:
I tried two different baking styles over the charcoal grill. A manual one that required constant baby sitting otherwise the browning would not be even, and an electric one using a charcoal grill rotisserie contraption I got long time ago that attaches to the Weber grill. The spindle I got from Home Depot for about $8.00. I didn't buy the bannister post (double the price) Joe's mentioning since I am too cheap. It would have probably help pulling the cake off easier because if the slightly tapered shape. But mine worked just fine (as long as I remembered to brush it with oil.
So, will I make this again? Of course! It's so easy to throw the ingredients together in your mixer, and bake it over the fire you are already using for your grill. It makes for an insane classy desert. Do it! Now!
---
---