Sourdough Chronicles – Day 2
Reading reports of the sourdough starter showing first signs in the first 24 hours, I started panicking. No signs of life (aka bubbling surface) in my concoction. Little did I know what was actually hatching inside. So, I took my wife's advice and gave it another night sleep chance.
Next morning (I'll call it beginning of day 2) to my surprise. The surface showed signs of bubbling, meaning that was a good thing! I in turn was bubbling with joy, while the others in my household rolled their eyes.
My suspicion is that the delay in life signs is the Chicago weather that's currently 10 degrees F outside. So since we want to conserve (save) energy, we run our heat at 68 F during the day and at 65 F at night. So, I would suspect that in a warmer environment, the signs of life will show earlier.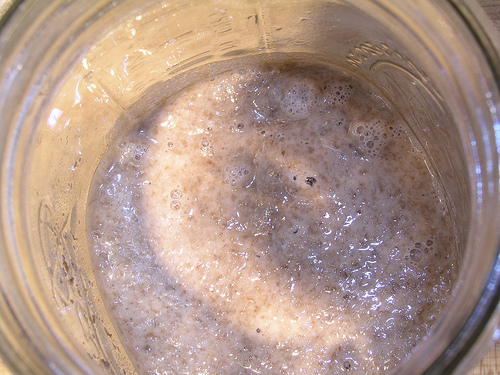 Breakfast!
I thought it was time to celebrate and feed the starter with a generous cup of all purpose unbleached flour mixed with 3/4 cup of water. Boy, was the started happy! I fed it at 9:00 AM and looked like this:
And look what happened by 3:00 PM:
And then by 8:00 PM the thing doubled in size (!):
Now we are talking! And remember this is only day 2!
Dinner Time
So, very glad of my colony of yeast, I prepared dinner (the same 1 cup unbleached all purpose flour mixed with 3/4 cups of bottled water), tossed half of the starter (otherwise you'll end up with a ridiculous amount of it), and mixed the leftover with the starter "dinner". Popped it back in the clean jar, and sang a lulaby.
Things are good baby!
---
---