The Demon Of Draft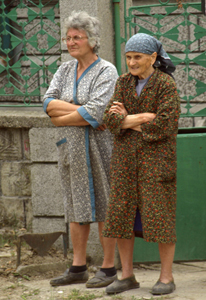 While growing up in Romania for 33 years I got to assume certain beliefs as being undoubtedly right and incontestable. It took a wife from the American continent to pull these things out of me and bring things into the light sometimes with a good laugh. Hope these will at least ease your day.
Draft can kill you!

You are traveling across Romania's plains in a train on a VERY hot summer day. There is no air conditioning existent in the train cars that are packed with happy people traveling between villages for various agricultural missions such transporting a flock of gees packed in bags, or chicks, etc. Strangely enough, the train car compartment windows are all shut, despite the fact that the inhabitants are sweating left and right. Being the nice person you are (or rather one who's close to being asphyxiated) you get up, go by the window and try with all your might to pull it sucking in the air with each inch.
But all of a sudden, you are being yelled at by the little 85 year old lady sitting next to you, so you have to leave it shut and resort to either go out in the hallway to be chocked by cigarette smoke or to stay in the compartment and hope for an imaginary oxygen mask to drop down from the ceiling.
In Romania it is believed that if you are between two open (or even cracked windows), the draft that's being formed as a result of that can get you really sick. Like you'll get a serious cold.
Note, Ladies and Gentleman that the wind (or draft) you get on say traveling on a motorcycle is harmless compared to the evil demon of draft that somehow emerges between two open windows.
photo: matthewlees' photostream on Flickr
---
---