Taco Dinner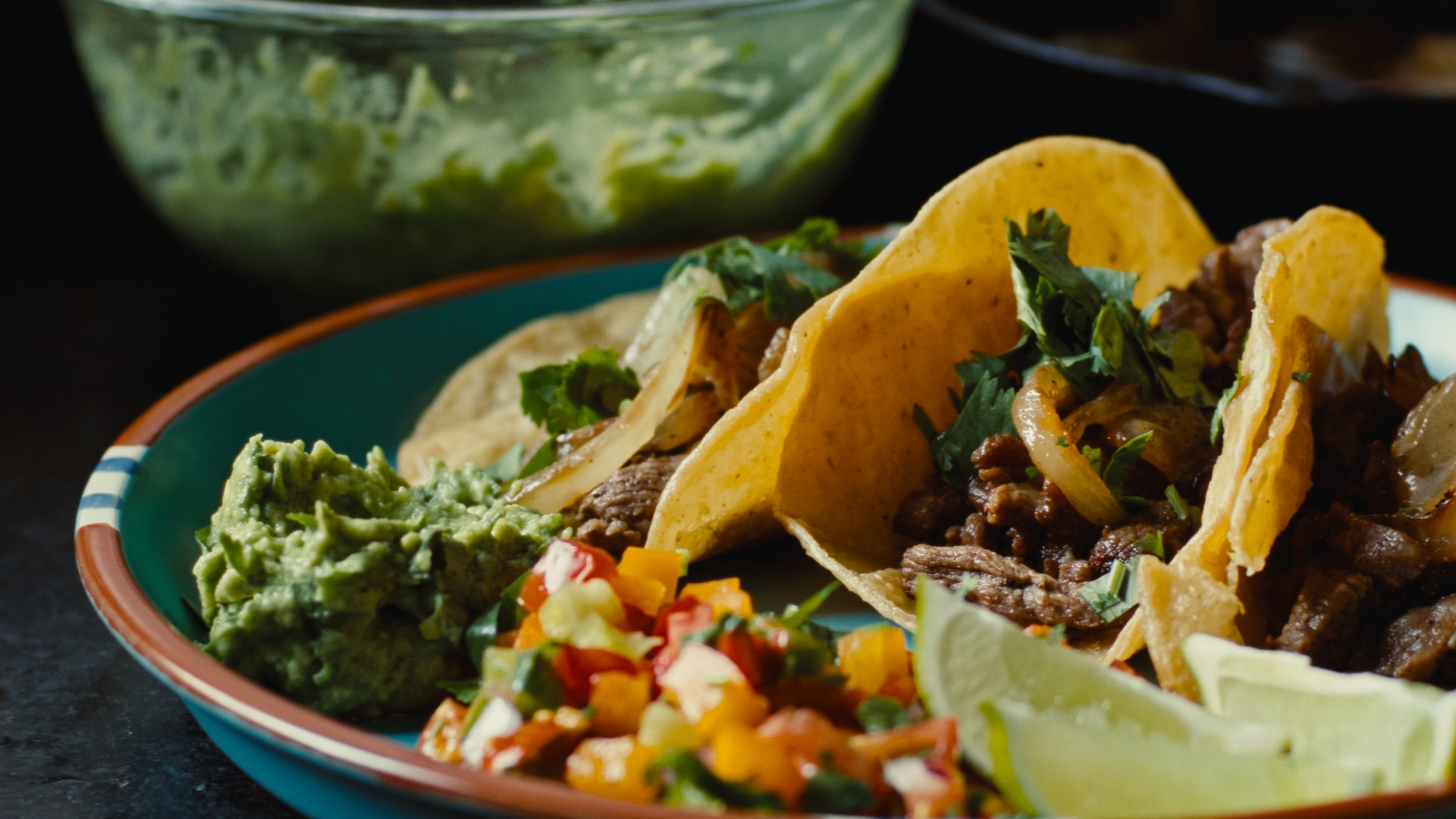 Embark on a flavor-packed journey to the streets of Mexico with this tantalizing taco dinner! Picture sizzling seasoned meats, zesty pico de gallo, creamy guacamole, and a tortilla embrace. It's not just a meal; it's a taste bud fiesta! Prepare for a culinary adventure, making your kitchen the hottest spot in town.

2 lbs beef chuck
2-3 garlic cloves diced
One sliced onion
3-4 medium size fresh tomatoes
Half of a various color bell pepper
One lime
½ cup diced red onion
Bunch cilantro chopped
Two avocados
Corn tortillas
TACO MEAT:
Roughly cut the beef chuck into small ½" (1cm) cubes. You don't have to be precise here; roughness is the key here.
Meanwhile, heat a heavy-duty cast iron with 1 Tbs vegetable oil on medium heat. Add the diced-up beef chuck. Add the diced garlic and toss it until evenly browned. Add your favorite Adobo seasoning (I am using All-Purpose here) to taste and ground pepper.
In a smaller cast iron pan, toss the sliced onion with 1 Ts vegetable oil, salt, and pepper to taste. Sautee the onion on medium heat until it is nice and caramelized.
PICO DE GALLO:
Start dicing the tomatoes, bell peppers, red onion, and half of the chopped cilantro. Salt to taste and squeeze half a lime. Toss gently and set apart.
GUACAMOLE:
Carefully half the avocados along the core, take the pit out, and scoop the flesh into a bowl. Use a fork or a rolling pin to mash the avocados roughly. Add salt to taste, ground pepper, and the juice from half a lime. Add the other half of the chopped cilantro and mix gently.
Warm up the corn tortillas wrapped in a wet paper towel in a microwave for 1 minute. Scoop a portion of the taco meat on each, followed by the sauteed onion. Top with your favorite red or green salsa and a drizzle of lime juice. Add a scoop of pico de gallo and guacamole.
---
---