The 'Light' Bacon Explosion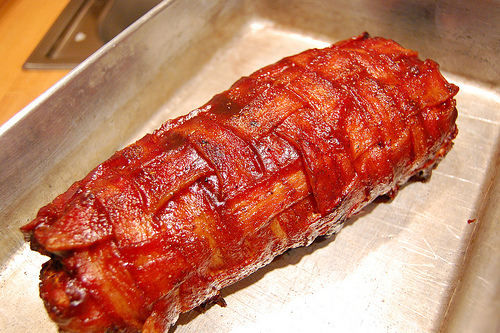 Had to do it. I knew it was going to come. The notorious creation of the BBQ Addicts, The Bacon Explosion a scandalous arteries clogging log of sausage, with crispy bacon bits, wrapped in … you guessed a layer of thick bacon! No trace of a vegetable in sight! None.
No need to elaborate on the Bacon Explosion recipe since it's already detailed at the very source – The BBQ Addicts. The only thing that I tweaked was that instead of buying the loose sausage from the store, I went on and made my own since I already have the #10 hand cranked heavy-duty meat grinder I absolutely love, as I can now choose the meat that goes in my sausage (that was pork butt)! In fact they even suggest doing so if you are the adventurer type.
Also I didn't use the thick cut bacon, simply because I didn't have the time to run to the store, – I used the regular thin cut one. And as for the rub and barbeque sauce, I did my own a while ago so I had those already.
The result was remarkable and (surprisingly) a very lean Bacon Explosion, against all my expectations!! I imagined this fat-dripping mass of intense mass of meat, but I got a very nicely packed texture with just the right amount of fat content.
I cannot think of any other reasons this Bacon Explosion turned out so lean and mean, but the ground 5 Lbs pork butt I grinded myself, and the thin cut bacon. Nevertheless it was an absolute barbeque delicacy (in the BBQ-ish sense of the word) full with wicked flavors, but not as fat cringe inducing (as for some) as I thought!
I think I could call this the Light Bacon Explosion.
---
---