NPR's How Low Can You Go $10 Meals – Farfalle With Potatoes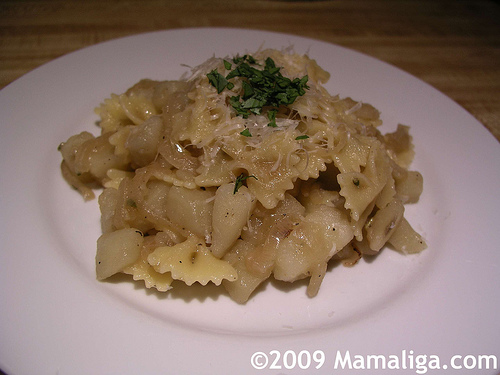 I decided to take on NPR's How Low Can You Go – $10 Meals challenge and post here a recipe that will bring you and your family through (at least for a day) the recession!
The recipe I will post is nothing new for me,  my Grandma would make it once a week, and almost everyone in East Europe eats it. And get this! If Potato Pasta brought many people through a Communist-wrecked economy in Romania, it will bring you through for sure here in the West!
Potato Pasta
You might think – what good can come out of starch & starch? Even if it sounds cliche, the secret is in the sauce. With some tricks, you can have a delicious meal for tonight with spending less than $10.00 (in fact I add it up and it totaled a little under $5)!
Chances are that you already have every ingredient in your kitchen, so you don't even need to run to the grocery store, burn gas, adding to your carbon footprint, which in turn makes this dish environmentally friendly also!!
What Goes In?
2 Lbs peeled Russet potatoes, cut in 3/4″ cubes
5 medium sized yellow onions
3 garlic cloves
3 Tbs vegetable oil
1 cup home made chicken broth
1 Lb Farfalle pasta (I used Barilla)
2 sprigs of fresh Greek oregano
Salt and freshly ground pepper to taste
Boil The Potatoes
Start with boiling the cubed potatoes in a pot with enough water to cover them an inch above. Add about 1/2 Tsp salt, and let them boil for something between 10-15 minutes.
You don't want to nuke them as Russet potatoes tend to disintegrate fast. I am willingly not using Yukon Golds because I want the starchy component of the Russet that will add to the creaminess of my sauce.
Try one piece and if it is boiled but still stiff enough to keep its shape, drain but hold on to the water. That is valuable since it has a lot of the potato starch.
The Sauce
Have your yellow onions cut crosswise:
Next, in a heavy cast iron skillet heat up the chopped garlic with the oil on high heat. It is important to have the garlic heat up together with the oil since it will maximize the aroma. And never leave it more then 30 seconds since there's a good chance that it will turn brown and impart a bitter taste to the oil.
Immediately after that add the onions and toss so they'll be coated in the oil. Continue sauteing on high heat for about 5 minutes, until the onions turn translucent and slightly brown.
Next, add the 1 cup of home made chicken broth and continue sauteing for about 10 minutes on medium heat until you get a nice syrupy sauce:
Now it is time to add 1 cup of the starchy water you used to boil the potatoes and continue sauteing for another 8-10 minutes until you get that syrupy consistency again:
Add about 1 Tbs of salt and freshly ground black pepper, and continue to gently stir for 1 minute:
The 1 Tbs fresh chopped Greek oregano will come next. Gently stir for 2 minutes:
Now, add the boiled and drained potatoes and fold them VERY GENTLY with the sauce trying to preserve as much as possible the cubes' shapes:
Supposing you know how to make the perfect Al Dente Farfalle, I'll skip that chapter that I will detail later in a separate post. So with that, add your Farfalle to the sauce and again fold very gently to not break the potato cubes, enough to coat. They will break some no matter what since they are Russets but you want to have some chunks in the mix:
Plate your servings, sprinkle some Parmigiano on top, and the result will be a delicious saucy pasta that will feed a family of four with hungry teenagers. Enjoy a superb diner, without spending as much as $5 dollars!
---
---