Kitchen Revamp Day 1
Yes, it is that time of the year. We decided that our "L" shaped kitchen needed a desperate face-lift. Nothing dramatic, except new cabinets and a finished floor. But we had to stay within our budget, so between us doing the whole thing and dear IKEA next door, we have a good chance of pulling it off!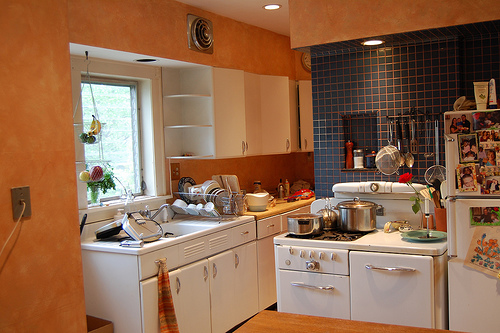 Today we started with of course boxing everything, pulling up the old linoleum to reveal the hardwood floor (that needs to be sanded of course), moving the fridge in our dinning room,  the stove out in the porch and pulling the old cabinets off the wall. It was amazing, how much you can do in a day if you want to tear down.
Pack It Up and Toss it (at least some)!
This is the time when you should decide if you still want those 25 plus Tupperware storage boxes that none of the lids fit, that 35 year old mixer, that needs noise-canceling headphone protection (like those you need when using a chainsaw) and goggles, the numerous utensils that you never used for the past 20 years but you bought them because the guy on TV convinced you that your life would be miserable without them.
Really – it is now or never. It is a face lift of your entire kitchen, remember? This is the time when you should really think of keeping the stuff you only need. Otherwise they will be there for another 35 years and will be the subject of jokes for your grand children. Chances are that if your kitchen (and you)functioned well with the stuff you often used up to  now, you will be set for the future also.
The good thing in our case is that we have a small kitchen and we really need to evaluate the use of each item, kitchen appliance, due to restricted storage place.
A Prophetic Message Under The Carpet?
The linoleum was layed on a layer of 1/4″ ply that also had to be pulled to get to the actual hardwood floor, that looked pretty healthy! It was interesting to note the message printed on it once I pulled the linoleum away! A Biblical commandment!
Now I feel more like Indiana Jones and start looking for more clues! Who knows what can hide under the hardwood floor. I like that!
Behind The Counter
It is surprising what you can find behind the counters of a 80 year old house. Check this out:
– orange flavored Kool-Aid from Perkins from 1942
– EKCO Nee Action Peeler label
– Tapioca Pudding insert
– Aqua Control Valve labeled match-box.
– Proctor Silex blender instructions
– Better Homes and Garden magazine
Intriguing! All from Julia Child's days.
And here are more pics of several of the phase. We wrapped the day off my basically clearing the kitchen and preparing the floor to be sanded the next day.
Linoleum ready to be pulled:
Cabinets ready to be unmounted:
Sink ready to fly:
Oven and refrigerator are moved (not thrown!):
Wall and base cabinets are gone:
Steph is painting:
Steph is grouting:
… and I am taking pictures 🙂
Tomorrow will be a messy one. Sanding the floor.
End of Day One.
---
---