Eggplant Dip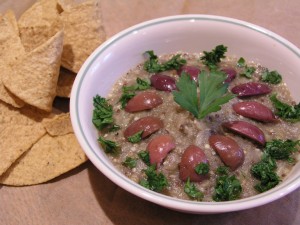 One of the recipes I recall from early childhood in Romania was one that my Grandmother, Mom and virtually everyone would make on a warm summer afternoon – as an enchanting snack, the eggplant dip.
A remarkable eggplant recipe, this simple eggplant dip can be eaten with fresh bread, chips, pita bread.
A Wide Spread Dip
Another example of the fact that cultures are sharing their recipes, is that the eggplant dip is spread all over the Balkans, the Mediterranean region, and into the Middle East, (even India, the native land of the eggplant) under several different names and recipes variations.
Hungarians call it Vinetta, Romanians refer to it as Salată de vinete. Of course a popular name for the eggplant dip is Baba Ghanoush, and is known as a Middle Eastern food.
This is another simple dip recipe that you can whip up very quick. Depending on the event, or season, you can broil the eggplants on the stove top, broiler or just drop a few on the barbecue.
To Pick An Eggplant
The eggplant (aubergine) is a fruit so it has seeds. If the eggplant is older, the seeds will be more obvious, if younger, they will be more unnoticeable resulting in more of a smoother eggplant dip. A young eggplant will be firm and will have a smooth and shiny purple skin.
If possible find out if there is a farm or a farmer's market nearby and try getting fresh eggplants. My wife discovered that an eggplant can turn bitter of not used while picked fresh. This also depends on the variety. Try using the American eggplant or if you are lucky enough to find it, the Italian eggplant.
Mr. and Mrs. Eggplant
There is a mythology floating among eggplant connoisseurs that there is a female and a male version. Botanically speaking this is utterly wrong. A fruit is a fruit and it is not produced by… well, you know how.
However there can be some truth in the way they tend to sort, and it seems that certain sizes and shapes are more preferred over the other.
The common approach would be to look for smaller "male" eggplants, that apparently have fewer seeds, on which the shape of the little "bellybutton" at the tip is round and shallow as opposed on the "I" shaped bellybutton on the "female" ones.
Go figure…
The Big Dipper (Simple Eggplant Dip):
2 freshly picked "male" purple eggplant
1/2 cup chopped onions
1/2 cup canola oil
Salt and Pepper to taste
Grill (or broil) the eggplants on your grill, broiler or the stove top until the skin becomes black and crusty. Let them rest for about 10-15 minutes in a covered pot, remove water excess and peel.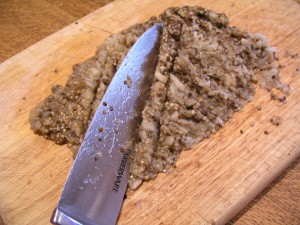 Using a thick wooden knife or the dull edge of a heavy chef's knife, and mash the peeled eggplants one by one. Use a criss-cross pattern as shown in the images and video to get an even mashed mass. Don't use a blender since that will puree the eggplant too much. We want to have somewhat of a course texture to the mix.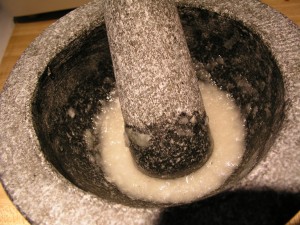 In a mortar, puree the chopped onions with the coarse salt. That will help the pureeing process faster.
Place the mashed eggplant into a large mixing bowl, add the pureed onion and pepper, and while mixing, add the canola oil in a slow steady stream.
Use your imagination to decorate the dip. Eat it with corn tortilla chips, French bread (Baguettes), or pita bread.
And as always, here is the video recipe! Please make sure you comment, ask questions and so on! I love knowing that I am not the only one out there.

---
---