Bacon Wrapped Dates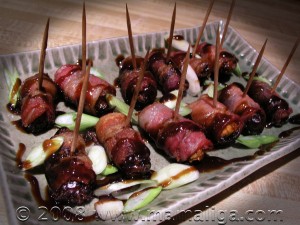 First I'd like to thank all of you for the messages of concern you sent regarding my mysterious disappearance that left some of you wondering what is going on with me. It is good to know that I have friends out there in the Blogosphere! Thank you!
It was all because of an intense period of preparation and practice for a Broadway musical called The Wedding Singer, where I was hired to play (loud) guitars in the orchestra (band) pit. Although it was a fun experience, sounded extremely well, it was a strenuous time for me because I had to learn about 23 songs by sight reading which proved me to be a little rusty since I am more of a guitar player that plays 'by ear' than after a score, etc. But hey, I pulled it off, and here I am ready to do some cooking!
This brings me to my second point and more relevant for this blog:
Blanket For Dates!
Remember last year's 40st B-Day present from my wife, the class for Irresistible Hors d' oeuvres at Chicago's Chopping Block cooking school? Well it turned out to be a blast. It was a nice night, we prepared interesting Hors d' Oeuvres, but one of them really irresistible me. They were the bacon wrapped dates.
A delicious finger food appetizer that's very easy to prepare. Here is the recipe with simple tips.
It all starts with a list. Depending on how many you want quantities can increase or decrease. Play it by ear as guitarists (ahem) would say. I successfully fed a crowd of 12 people with these amounts:
1 pack of Bacon (anything but Corn King – read later)
40-50 pcs Pitted Dates (one medium sized pack)
4 Scallions chopped
Cream of Balsamic (I am using the Isola brand)
Wooden toothpicks
[ad#468×60]
Use your favorite bacon brand for this recipe. I am using a brand called Dutch Farm Lean Bacon because has a nice thin cut, with excellent balanced meat/fat strips. The thin slice will make wrapping very easy. Unlike the Corn King that has a somewhat thicker cut and to be honest it does taste like animal (sort of a farmey smell if you get my drift).
The highlight on this recipe is the Cream of Balsamic. I was introduced to it by the folks at The Chopping Block, and was lucky enough to find the same brand in my ethnic grocery store we usually go (Valli Produce). Cream of Balsamic is a sweet/sour thick syrup that goes well on any dish from salads, meat appetizers and even desserts.
Start off by cutting 5-7 strips of bacon in thirds, and use one third for each date. Wrap each one of them, (seam down), pin it with a wooden toothpick and place them in a parchment paper lined cookie sheet.
Into the oven they go at 375 F for about 15-20 minutes. Place the dates on a plate and ornate with the chopped scallions, and Cream of Balsamic drizzles.
A Little Improvisation
Along with the dates, I tried bacon-wrapping on dried apricots and figs. Interesting twists I might add. But in the end what does NOT taste good wrapped in bacon?!?
---
---